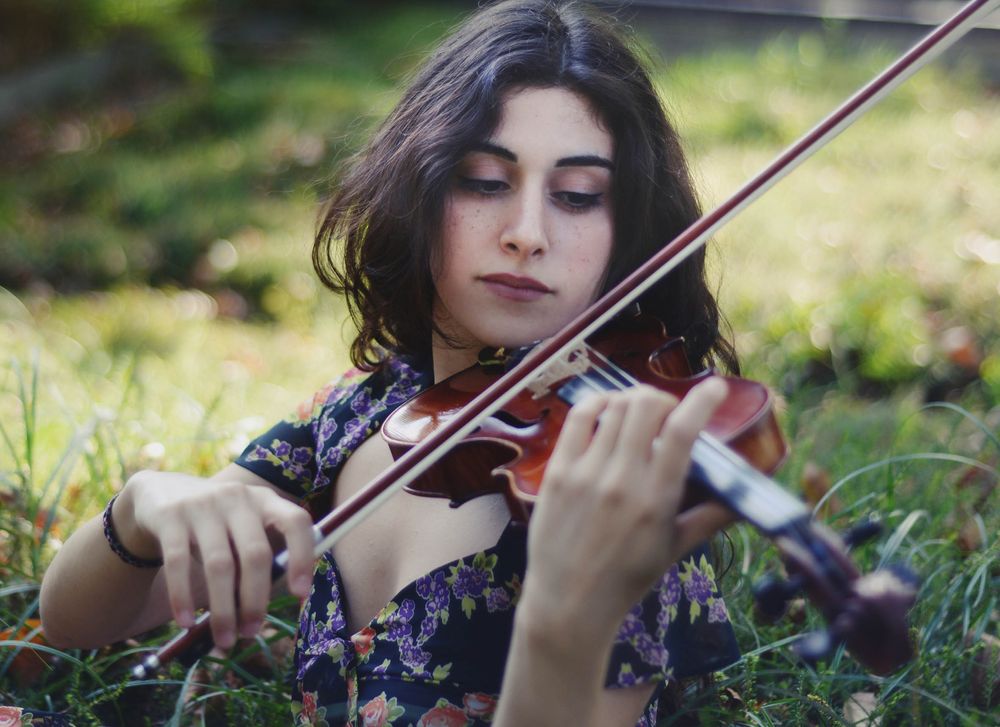 Deemed a "Rising Star" by BBC Music Magazine and raised on the verge of several musical streams since her childhood, violinist, composer and Jerome Hill Fellow 2020-2022 Layale Chaker debuted her musical training at the National Higher Conservatory of Beirut in her native Lebanon. She later went on to pursue her studies at Conservatoire Regional de Paris and the Royal Academy of Music in London, studying under professors such as Mohamed Hashem, Carmen Scripcariu, Jeanne-Marie Conquer and Nicholas Miller. 
Layale's musical world lies at the intersection of classical contemporary music, Jazz, Arabic Music, and improvisation. As a violinist and composer, she has received commissions and presented performances and projects around Europe, the Middle-East, North and South America and Asia, and has collaborated with Daniel Barenboim and the West-Eastern Divan Orchestra, Ziad Rahbani, Johnny Gandelsman, Holland Baroque, International Contemporary Ensemble, Oxford Orchestra, the New World Symphony, Babylon Orchestra, performing at the London Jazz Festival, Alderburgh Festival, Morgenland Festival Osnabrueck, Junger Kunstler Festival Bayreuth, the Lucerne Festival for Contemporary Music, Impuls' Festival, Beethoven Festival Bonn and Avignon Festival among others, and concert halls such as The Berlin Philharmonic, Abbaye de Royaumont, Hancher Auditorium, The Stone, National Sawdust, the Banff Centre, the Royal Albert Hall and the Wigmore Hall. 
Her debut album with her ensemble Sarafand, "Inner Rhyme", recipient of the AFAC 2018 fund, is dedicated to the sounds, rhythms, rhymes, shapes and forms of Arabic poetry. The album was released on In a Circle Records, and listed as "Top of The World" by Songlines with a 5-star review, rated #2 on NPR 10 Best Releases, #1 for several weeks on the World Charts of iTunes and Amazon Music, and has received praises by the BBC Music Magazine, The New York Times, The Strad, Strings Magazine, Jazz World among others. 
A winner of the Silkroad Seeds inaugural 2020 award and a Nadia et Lili Boulanger 2019 laureate, Layale is also a finalist of the Rolex Mentor & Protege 2018 Prize, the recipient of the Diaphonique Franco-British Commission Prize 2019, the 2018 Arab Fund for Arts and Culture Grant, the Royal Academy of Music 2018 Guinness Award, and the winner of the Ruth Anderson 2017 Competition.